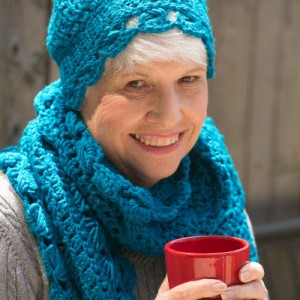 I Like Crochet issue December 2014 contains two of my designs! As part of the Warm up to Winter chapter in this issue, I'm presenting the Hugs and Kisses Set consisting of a hat and matching scarf. Photo courtesy of I like Crochet Magazine.
Luxurious, stylish and deceptively easy. The broomstick lace-filled Hugs and Kisses Scarf and Hat set is a perfectly coordinated set. It will last you all winter long. Together the hat and scarf provide all the warm woolen hugs and kisses one can ask for in winter time.
Both the hat and scarf are also available through La Visch Designs.