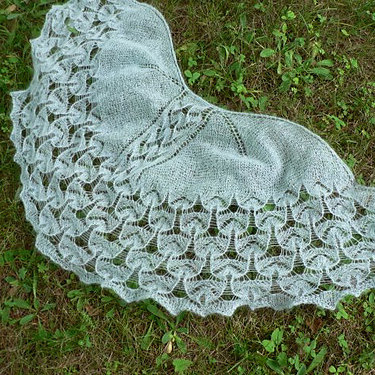 Today my second interview with a fellow Indie designers participating in the Indie Design Gift-A-Long 2014. I'm talking to Tanja Luescher from Tanja Luescher Designs, also known as knittedinswitzerland. She joined me in the chat room of the La Visch Designs group on Ravelry:
First of all, I'm very excited to be having this interview with you and get to know one of my fellow Indie Design Gift-A-Long designers a bit better. So thank you very much for having this interview with me!
Thanks to you for interviewing me 🙂
Would you please tell me (us) a little about yourself?
I live in Switzerland with my hubby and two cats. I learned to knit in 2003, when I met my husband. We were living 600 km apart from each other, and every Sunday when he brought me to the station, and we waited for the train, he was so cold. So I decided that I wanted to learn to knit and make him gloves. Unfortunately, he almost never wears knitted things, but I knit on anyway 😀 I soon began to make up own patterns (Top Down Custom Fit Raglans, for example) to get something that fits me. In 2013 I published my first pattern 🙂
That is so romantic!
🙂 Yes… apart from the "he doesn't wear knitted things" part 🙂
Mine also doesn't wear my knits 🙂
They don't know what they're missing…
So right! When looking at your portfolio, the emphasis seems to be on lace. How did you start designing lace shawls and other accessories?
I took a two part course from Renee Leverington (GoddessKnits), Design your own Shawl and Advanced Shawl Designing. I hadn't even knit much lace or shawls before, but I was completely hooked 🙂
For me, lace is the most beautiful thing you can create with knitting
How would you describe your design style?
Well… Lacy, I guess 🙂 I try to design things that keep me (and hopefully) others motivated, miles of stockinette would probably kill me. I love the look of a nice stockinette sweater, but I can't knit it without adding a cable here or a little something there. 🙂
Besides (obviously) lace, what's your favorite thing to knit? Shawls, hats…?
At the moment it's definitely shawls, and recently I've fallen in love with cowls. I also love knitting socks, although I might have a little bit of Second Sock Syndrome…
Ah, the dreaded Second Sock Syndrome… I'm a victim of that too. To battle it I usually knit 2 socks at the same time. Which means that my latest pair of socks has been without top ribbing for the last 2 years 😉
LOL Yes, two at a time is one of the greatest inventions of all time 🙂
What is your favorite pattern of your own design? And why?
The shawls I made for special people in my life (my friend Eri, my MIL Margrit, my great-grandmother Betty and my friend Jolanda) are close to my heart, of course. I couldn't choose one of them – that's like asking which of my four-legged children I love the most. 🙂
I was wondering about the names of your patterns… Could you tell me more about the background of one of those?
Okay… In May 2013, my father-in-law died all of a sudden, and we took my mother-in-law, Margrit, to live with us because she has Alzheimer's. She loves to see me knitting, she always says "Tanja, you're an artist" or "Martin, you married an artist, you know?". At that time I was knitting a Pi Shawl, and she kept telling me how beautiful she thought it was. When it was done, her birthday was just around the corner, so I named the shawl Margrit and gave her the sample for her birthday.
That is such a touching story… And I must say, the Margrit shawl is really gorgeous!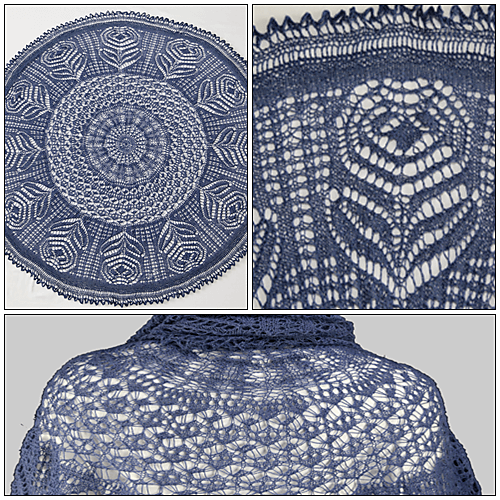 I'm curious, what do you do in your down time besides knitting?
I love reading, sometimes I play the piano and I love to play The Sims (2 and 4) 🙂
What is your taste in books?
Many different things… The last two books I've read were a crime story and "Radical", the biography of Majid Nawaz. I also love absolutely everything written by Jasper Fforde. But then I can't say no to all the knitting novels out there, either …
I must admit I'm not familiar with these writers. I'm more of an old-school sci-fi person myself. I love me some Asimov, Vance and Niven 🙂
I'm a Trekkie deep in my heart 🙂
Old or new?
All 🙂
A true fan! 😉 Are you doing any gift knitting this year?
Yes, I'm making a blanket for my daddy and if I can somehow make the days have 48 hours I'll also make him a few pairs of socks. 🙂
Wow, those are not small projects either! I can see where the wish for longer days comes into play.
The blanket is made from bulky yarn, fortunately. 🙂
That makes a big difference!
Oh yes 🙂 But the GAL with all its tempting patterns doesn't really help 🙂 But it's fun to knit from someone else's patterns for a while.
I very much admire the various sock yarn blankets that sometimes do their rounds over Ravelry, but for me personally that just is a no-go…
I've made one blanket from sock yarn held double, that was okay. Unfortunately, the cats have loved it to death…
For a very long time I'm now knitting a pattern form someone else and it so relaxing… Not having to think through every step 😉
So true 🙂 Just do what the pattern says, it will be alright 🙂 Tanja Luescher Designs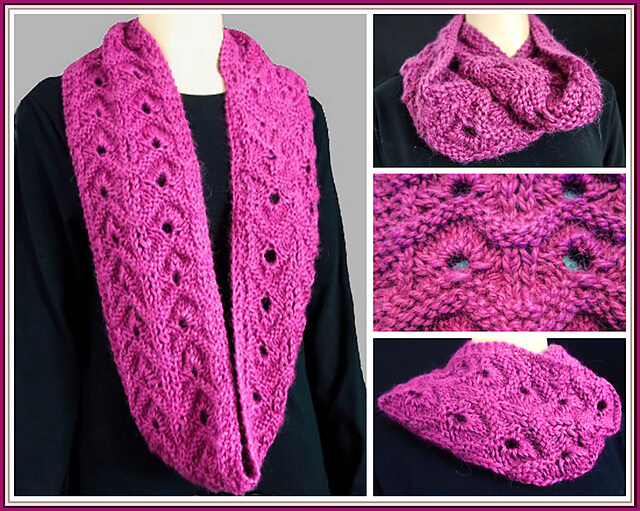 Pick one of your own designs that you think makes the perfect gift and tell us why you think that.
I'd say International Cowl – it's an interesting Estonian stitch pattern and a quick knit.
That is indeed a very lovely pattern. Do you intend to make it a set with (fingerless) mittens and/or a hat in the future?
Not at the moment, I have too many new ideas 🙂 But who knows…
I know the feeling!
Lovely! That's it for my questions. Thank you very much for your time. I really enjoyed this chance to get to know a fellow designer a little bit better 🙂
Thanks, I've enjoyed it, too 🙂
Wonderful and thank you. Have a great evening!
Same to you, have a nice weekend 🙂 Tanja Luescher Designs Tanja Luescher Designs