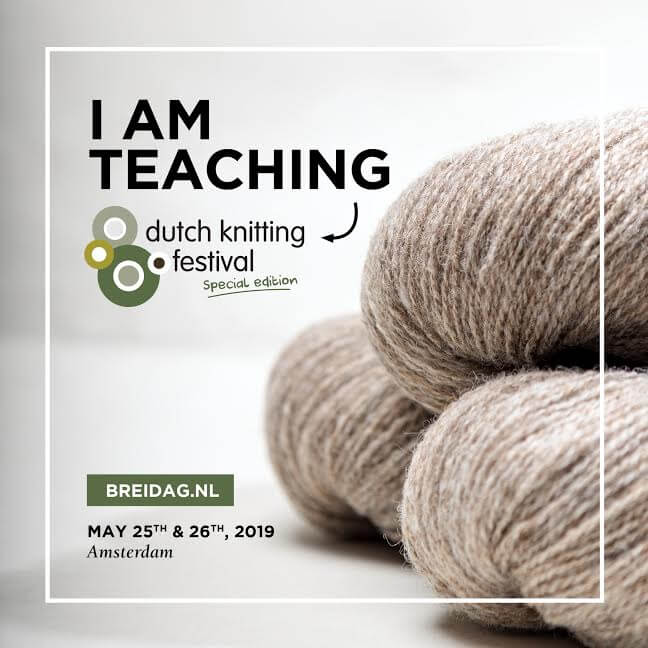 The Dutch Knitting Festival is the most popular knitting and crocheting event in the Netherlands. There are many shops, over 30 classes, free yarn tasting, and lectures, demonstrations of all sorts of fiber techniques and, of course, lots of opportunities to knit and crochet together. Perfect for inspiration-filled days with and among like-minded people.
On the 25th and 26th of May 2019, there will be a special edition of the festival in a beautiful industrial location, in the middle of Amsterdam. The special theme is sustainability in yarns, fibers, and textiles.
And I've got some very exciting news: I'll be teaching a workshop on Sunday the 26th on knitting a top-down crescent shawl!
Knit a top-down crescent shawl with La Visch
Crescent-shaped shawls are very popular and rightly so. Because of the special shape, they stay draped over the shoulders better than traditional triangular shawls. In this workshop, you will learn how to knit a special variant of the "garter tab cast-on" using the Art-Deco shawl pattern. This special cast-on seamlessly merges into the main part of your shawl. Attention will also be given to how to prevent the "hump" so often present with the crescent shawl shape.
At the end of the workshop, you have made a start with your shawl. And you know everything about the construction and knitting of top-down crescent-shaped shawls.
For more information on this workshop, visit the workshop page on the Dutch Knitting Festival website.
Art Deco shawl

Garter tab cast-on for top-down crescents
Early bird tickets for admission and this class are available through the workshop page from February 15th, 19.00 (GMT+1).
Will I see you at the Dutch Knitting Festival in Amsterdam? Do let me know if you plan on visiting. In case of questions or remarks regarding the workshop you're, of course, also welcome to contact me. I'm very much looking forward to seeing there!