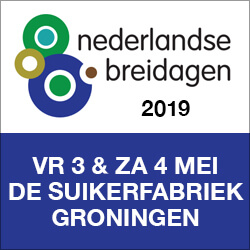 The Dutch Knitting Festival is the most popular knitting and crocheting event in the Netherlands. There are many shops, over 30 classes, free yarn tasting, and lectures, demonstrations of all sorts of fiber techniques and, of course, lots of opportunities to knit and crochet together. Perfect for inspiration-filled days with and among like-minded people.
On the 3rd and 4th of May 2019, the festival will be in De Suikerfabriek in Groningen. I will be there too on Friday the 3rd, to give a workshop on knitting a lace sachet!
Knitting a lace sachet with La Visch
A sachet can be made both top-down and bottom-up. In this workshop, the focus will be on the most important techniques for making a top-down sachet. Think for example of knitting in the round in a small diameter (magic loop), reading charts, simple lace knitting and binding off using the "three needle bind off" method.
Do you want to be there? Register quickly, because there are limited spots! For more information on this workshop, visit the workshop page on the Dutch Knitting Festival website.
Early bird tickets for admission and this class are available through the workshop page.
Will I see you at the Dutch Knitting Festival in Groningen? Do let me know if you plan on visiting. In case of questions or remarks regarding the workshop you're, of course, also welcome to contact me. I'm very much looking forward to seeing there!